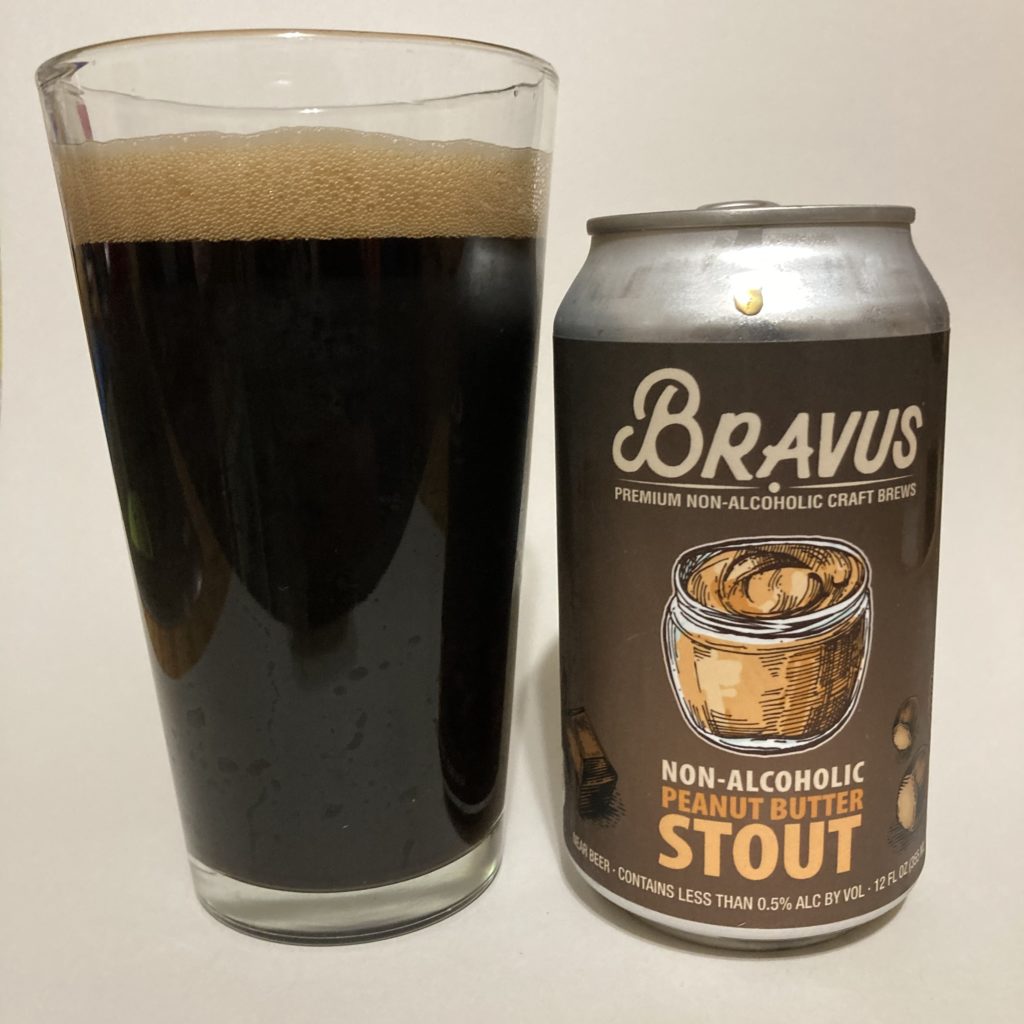 i wrote about my weird experience with bravus brewing's oatmeal stout in a previous post, the upshot of which is that after contacting customer service, they had me send back some of it that i thought was off and sent me a mix-pack of fresh beer to replace it: 2 oatmeal, 2 blonde and 2 peanut butter stout, so i could try some of their brews i can't find locally in stores. well it arrived today and i promptly put it in the fridge to chill.
8 hours later and i am currently enjoying their peanut butter stout enormously! i've read so many great reviews of this beer, and i am totally a stout person and have yet to have a really satisfying NA stout experience, so i'm really psyched to finally try it and love it so much. (i love athletic's all out stout but it doesn't really compare to this one in richness and body/mouthfeel. it almost reads more like a porter to me.)
as you can see in the pic, this beer pours a nice dark brown almost black color with a good head that gives off an amazing sweet peanut butter/chocolate aroma. the carbonation and body of this beer is appropriate for a stout, though probably not quite as thick as an alcoholic one. but pretty good for an NA, especially since it does NOT have lactose in it. the flavor is really rich – creamy, chocolatey, a little hazlenut in with the peanut butter. i was worried it would be overly sweet but i don't find it to be at all. it's just right, though i would certainly classify this a dessert beer and probably couldn't drink more than one in a sitting. i can hardly believe it only has 106 calories cuz it sure tastes like it has a lot more!
i'm looking forward to trying (another night) the fresh oatmeal stout that they sent me, to see if i have a different experience than the last ones i had to send back to them. i wonder if it's just a freshness issue? (the ones I sent back were purchased at total wine, so who knows how long they'd been there – i can't find any dates on the cans.) i did notice when i first opened the can and smelled it, i did get a very faint whiff of the smell that turned me off so hard on the brews i sent back. but that whiff did not convert to a taste when i took my first sip, and the other aromas quickly overpowered that faint smell. so not sure what that is – the hops? the malt? i dunno. but it's like the ones i thought were "off" were really unbalanced, and that nasty smell and taste just overtook the rest of the beer. i'm really hoping they tell me what they find when they get those beers back so i can understand more what it was that went wrong. but drinking this one tonight confirmed to me that something was not quite right about those beers, so i'm glad they let me send them back and grateful they replaced it with some delicious fresh beer!
so thanks brendan, at bravus customer support! i will certainly be buying more of this peanut butter stout!