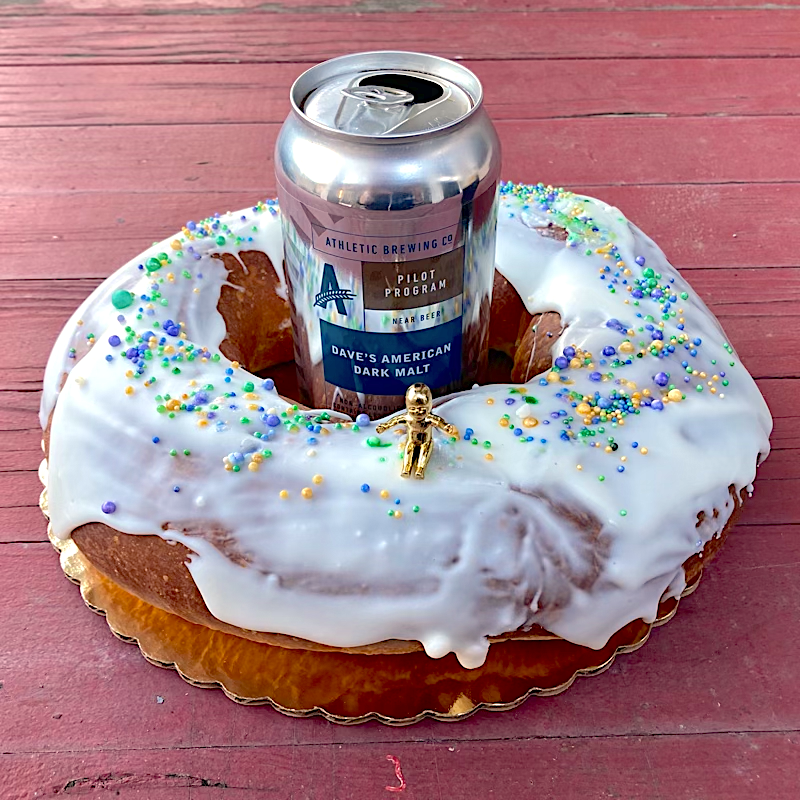 here we are. it's the beginning of a new year. and in the non alcoholic beverage world, it's dry january, which for those of us here in new orleans comes at a really inopportune time because we have just begun what will be a rather long carnival season! epiphany – the beginning of carnival – was this past thursday, and mardi gras isn't until march 1st! and while the really debaucherous weeks of carnival are not until late february, there is still usually a large amount of social drinking that goes along with all carnival celebrations – even small king cake gatherings with family or friends. so yeah, dry january is a hard sell here.
but here i am talking about it anyways. i am mostly alcohol free these days though reserve the right to have a celebratory alcoholic beer or cocktail here or there. but i've decided it just doesn't make me feel good, nor does it taste as good to me anymore, so for the most part i will stick to NA options. and since there are so many, i hardly miss it.
however, for those attempting dry january, i just thought i'd go over some of the dry january deals, sales and special promotions that have been hitting my inbox lately for NA craft beer. it's a great opportunity to try out a wide variety of brew styles at sometimes much cheaper prices. (there are likely similar sales and discounts for NA spirits and wine but i'm not really that interested in those so i don't keep up with those brands. you'll have to do your own research on them.)
athletic brewing is doing 50% off the first month of new subscriptions in january, and they have a special dry january party pack of 30 beers plus some other goodies for $60 shipped to your door. (it's a little cheaper if you are a subscription member.) i joined last year so i'd have better access to their pilot beer program (small batch, limited editions) and discounts. they have a few new pilot brews available this month too.
wellbeing brewing is offering their joys of january variety pack for $28, which is a 12-pack including 2 each of 6 of their flagship brews so you can sample a lot of what they make. (they do flat standard shipping of $10.) i really love their beer and a couple of them even made my top 10 list. they just released a limited oatmeal cookie stout that i'm looking forward to trying. (i just won a giveaway on their instagram for a 4-pack of the oatmeal cookie stout and a t-shirt!! it's so exciting! can't wait til it gets here!)
self care is the non-alcoholic imprint of three magnets brewery in washington state. i haven't gotten the chance to try them yet but they've been putting out some really interesting sounding brews. they don't pasteurize their beers in an effort to retain more hop flavors and aromas so there is the risk of refermentation in the cans, particularly at warmer temperatures. since i live in the south and you can't count on cooler temperatures to last more than a day even in winter, i haven't risked the cross country journey yet. but they've got a dry january variety pack that includes 6 4-packs of their various NA beers (a case!) for $75 plus shipping (free shipping for their subscription members). maybe if we get some kind of extended cold snap i'll give them a shot.
rationALE brewing is another new one to me, from sonoma, california. they are doing 50% off if you use the code MODERATION for the month of january. i just ordered some of their rational vibes cerveza and i've heard amazing reviews of their citrus hazy IPA. (i chose not to try the IPA cuz chances are good i wouldn't really like it since i'm not an IPA fan and didn't want to waste the money.) i will give you my thoughts whenever i receive it but it's a pretty great deal even considering shipping.
i don't drink a lot of brewdog beers but they have 20% off all their na beers for the month of january and free shipping over $20.
bravus is one of the breweries i really want to like but have been really disappointed by repeatedly, so i stopped buying them. unclear if it's a personal taste issue on my part or quality control issue on their part, but for whatever reasons they are no longer in my fridge. but for those who still like them or want to try them out, they are offering 10% off all orders in january with the code DRYJAN and they offer free shipping on orders of 12 or more beers.
rightside brewing just added a 10% discount for online orders when you use the code DRYJAN (valid through 1/25). they are also doing a book club, reading this naked mind by annie grace. (it's not too late to sign up!) they also recently start offering a mocktail subscription box for those who might be interested in exploring NA beer-based mocktails and for january are offering the first hop collins mocktail box as a stand-alone purchase for $35. they always offer free shipping on 2 or more 6-packs.
atmos brewing has a january pack that includes 2 each of their different brews plus 2 hop seltzers for a total of 14 NA beverages plus an atmos t-shirt for $65 (free shipping). i've only tried one of their brews (kora, which is a double-hop IPA so it was not my thing) but if you are into IPAs you might want to give them a try.
barrel brothers brewing is offering 31% off for the rest of january on all their individual non-alcoholic brews when you use the code TRYDRYJANUARY. it's a nice discount but there's still a rather expensive shipping charge, at least to my neck of the woods. but they also still have their non-alcoholic holiday bundle up for sale on their site, which is a great deal: 6 4-packs of their various NA brews plus 20% off your next NA purchase in january, for $80, with free shipping. they are another brewery i wish i could try, particularly the dark sarcasm porter and their blonde voyage. one day.
al's is another na beer that is on my list to try at some point. they only have the one brew – a classic craft pilsner – but they are offering free shipping on two or more six packs for the month of january. use the code ALSPALS for an additional 10% off.
i haven't had a gruvi brew in a while – i liked them ok but not enough to keep it stocked in my fridge. but they have a dry january sampler pack for $59 that is a mix of NA beer and wine (3 4-packs of beer flavors and a 4-pack each of their bubbly rosé and dry secco) or you can get a beer-only 12-pack mix for $29.
and lastly, untitled art – who make some of the most well-crafted non-alcoholic brews on the market – have a non-alcoholic mix pack, a 12 pack for $30 containing 3 each of 4 of their brews. it's not billed as a dry january special but their NA offerings always sell out online so if you are interested in trying them out i'd scoop it up ASAP. (shipping is $10 unless you spend more than $40.) they also sell adaptogenic and cbd sparkling waters that i really want to try.
i'm sure there are more deals out there that i don't know about, but this is what crossed my inbox and fb groups. if you know about anything else, please pass it on in the comments! happy NA drinking!