i seem to have run out of steam writing regularly on this blog, now that work has picked up (it's been a month solid of back to back overnight dog sitting) and also now that i've sampled over 60+ NA beers and have settled on a handful that i rotate between regularly. but i thought i'd offer a few news tidbits and a quick review of something new-to-me i picked up this week.
first, did you know it's dry july? i'd never heard of it before but started seeing other NA beer bloggers writing about it, so figured i should investigate. well, turns out what started in july of 2008 by three guys in australia as a motivation to abstain from drinking for a month and buy their local hospital a new waiting room TV has turned into an annual fundraiser "aimed at challenging social drinkers to change their habits for a month and make some healthy lifestyle changes" while raising money for cancer patients/charities. over the years they've raised more than $60 million for various organizations across australia and new zealand!
there does not appear to be a similar foundation set up in the U.S. (yet), but nothing is stopping you from taking a pause from alcohol for the month and donating to your favorite cancer charity and/or asking your community to support you in your efforts by also making a donation. if you decide to do it, definitely drop a comment on this post and i'm happy to boost your efforts!
did you also know that today is national independent beer run day? yeah, me neither. it seems to be just a marketing ploy by the brewers association to promote and sell craft beer, "calling on beer lovers to seek the independent craft brewer seal and purchase craft beers produced by small and independent breweries for their independence day festivities" – buy hey, why not?
of course i'd love to support a local indie craft brewery today (or any day), but sadly none in my area are brewing non-alcoholic brews yet. (skip down below for an update on that topic.) so i will just have to participate by stocking up on some independent craft NA beer from out of state – perhaps a run out to total wine is in order?
i feel like i have already done my part this week though by finally receiving my second order from athletic of their pride month beer rainbow wall (i managed to score a 12-pack when it was briefly restocked last week – it's gone again); i really love that beer! and i also made another between-clients pitstop in to elio's uptown to pick up a 6-pack of untitled art's NA juicy IPA. since i seem to be enjoying the fruitier NA IPAs on these hot summer days, i thought it was worth a try.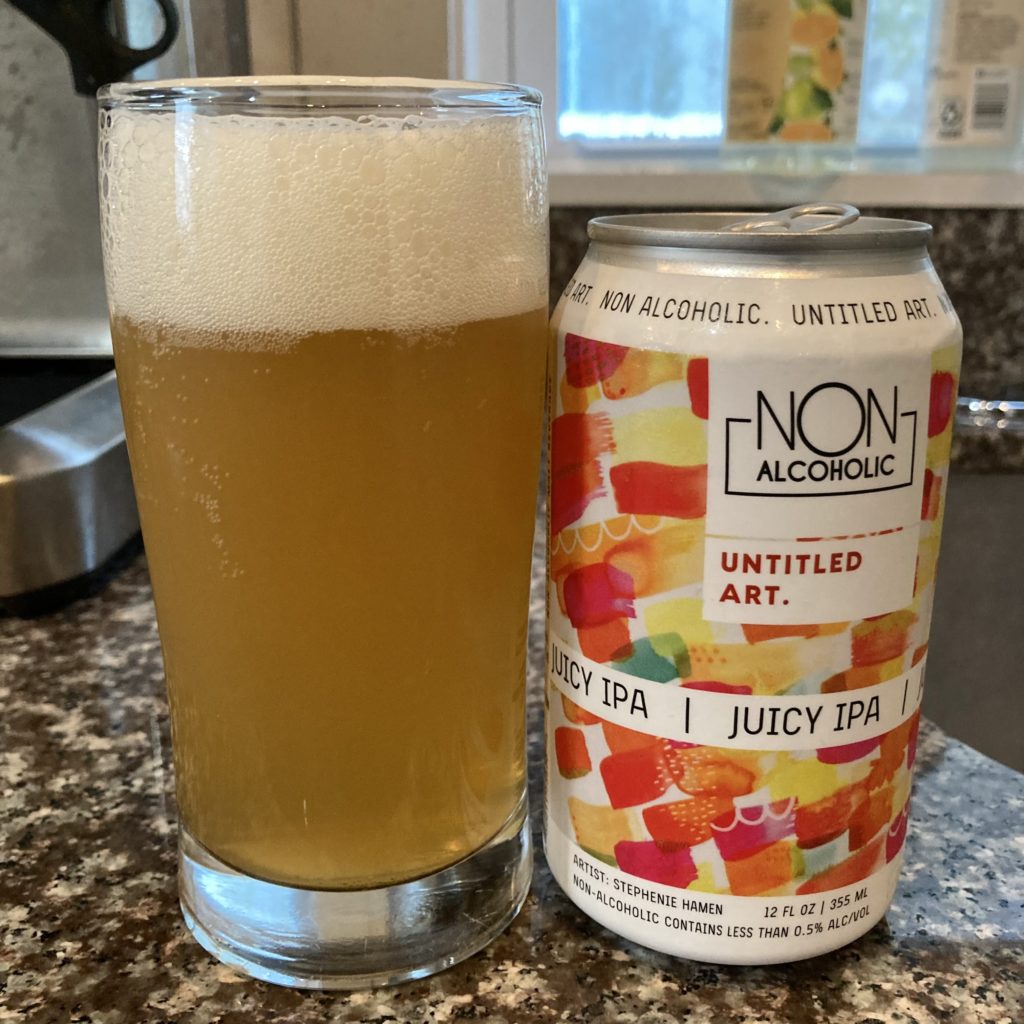 i kinda love it! it's so smooth and has a great mouthfeel, good body. and though it definitely has some grapefruit flavor and a bit of a bite, it's not super bitter. the combo of citra and mosaic hops is delicious and at 90 calories/19 carbs it has some substance but not too much. i had one yesterday in the middle of my dog walking day and it was a real rejuvenator! once again thanks to pelican craft brands for distributing UA's NA offerings around town. now if i could just find their watermelon gose!
on the local front, second line brewing is neighborhood brewery and when i was drinking alcohol, their beers were my favorites. though they aren't brewing an NA… yet, i did manage to ask them about it on an IG post and their response was at least encouraging: "you'll often see larger breweries making NA beers because they have the infrastructure in place with the necessary equipment to filter out ALL the yeast before packaging – otherwise, you risk continuing fermentation. unfortunately we're not there yet – just means we have to keep growing so we can make some tasty NA beer :)"
so that makes three local breweries who've given me a positive response about potentially brewing NA in the future – second line, zony mash and faubourg. and nola brewing has their NA hop'd teas, which i need to check out. i still maintain that urban south seems the most likely to be equipped/positioned to try NA brewing, but they've never responded to my queries about it. maybe i just need to drop in one day and ask.
regardless, we here in NOLA have come a long way already in the 7 months or so that i've been drinking NA and documenting my journey. the selection continues to grow at total wine all the time, local groceries and liquor/wine stores are carrying more varieties of NA and keeping them stocked, and you can much more frequently find at least the macro breweries' NA options at local bars and restaurants. it's not as much progress as in some other parts of the country, but new orleans is always behind the times on most trends, so i guess it makes sense for this one too. until we catch up, i guess i will just continue to sample the ever-widening array of craft NA available from around the country via beer mail!
enjoy your 4th of july holiday weekend! and tell me what NA brews you'll be drinking in the comments. cheers!