i've been wanting to try this beer pretty much since i started this NA adventure. i kept wanting/expecting to find it at either whole foods or total wine because both chains carry the beer in other parts of the country. but so far i've been unsuccessful in getting either to order it here. or maybe it's just that it's not distributed in these parts yet, not sure.
so i finally broke down and ordered online via amazon, which is how they sell direct to consumers. $15 for a six pack seems pricey until you think about the shipping being included and then it doesn't seem so bad. (no it's not a prime item – i ordered it on saturday and it arrived on thursday via UPS.) the twelve-pack price of $29.99 is just a tad higher than what many NA craft breweries are doing with their two six-packs = free shipping offers, with most of them charging $12.99 per six-pack. but when you consider the higher costs of brewing non-alcoholic craft beer with quality ingredients, it's still a decent price.
ceria (rhymes with area) was co-founded in 2018 by keith villa – best known as the creator and brewmaster behind the popular craft brew blue moon – and his wife jodi villa, who is the CEO of ceria. after retiring from a highly respected 32-year career at coors, villa decided to take on the challenge of making an equally compelling high quality non-alcoholic craft beer to serve as the basis of their new THC and CBD-infused brews. (the company is based in colorado where all things cannabis are legal.) so ceria sells their grainwave (the belgian-style white ale) and their indiewave IPA in both infused and non-infused, non-alcoholic versions. i obviously only have access to the non-alcoholic, non-infused varieties since i live in louisiana.
so how is it? i only ordered the grainwave because of my usual aversion to IPAs, though now that i've had one i'm kinda curious about what the IPA tastes like. but the grainwave is good! i'm a sucker for a blood orange beer. (one of my all-time alcoholic faves is my neighborhood brewery, second line brewing's blood orange saison that is usually a staple of my summers.) grainwave's nose and flavor heavily favor the blood orange peel and coriander combination, over an oaty belgian-style malted wheat and hops base. i've read a few other reviews that note it is under-carbonated and i kinda agree – it poured great with a large foamy head but felt flat by the time i got to the bottom of the glass. but it has a good medium body to it and i love the golden-orange color. it was quite refreshing.
i think i'll have more to say as i make my way through this six pack. but it went well with my lunch of scrambled eggs and veggies and as a citrus wheat beer it definitely gives off summer vibes! (even though we are having an unseasonably chilly overcast day here in the low 50s.) i like it but not sure i like it enough to want to keep buying it to keep in regular rotation at home. i would definitely be happy to order this at a restaurant or bar, though. and we'll see how i feel after a few more on different days.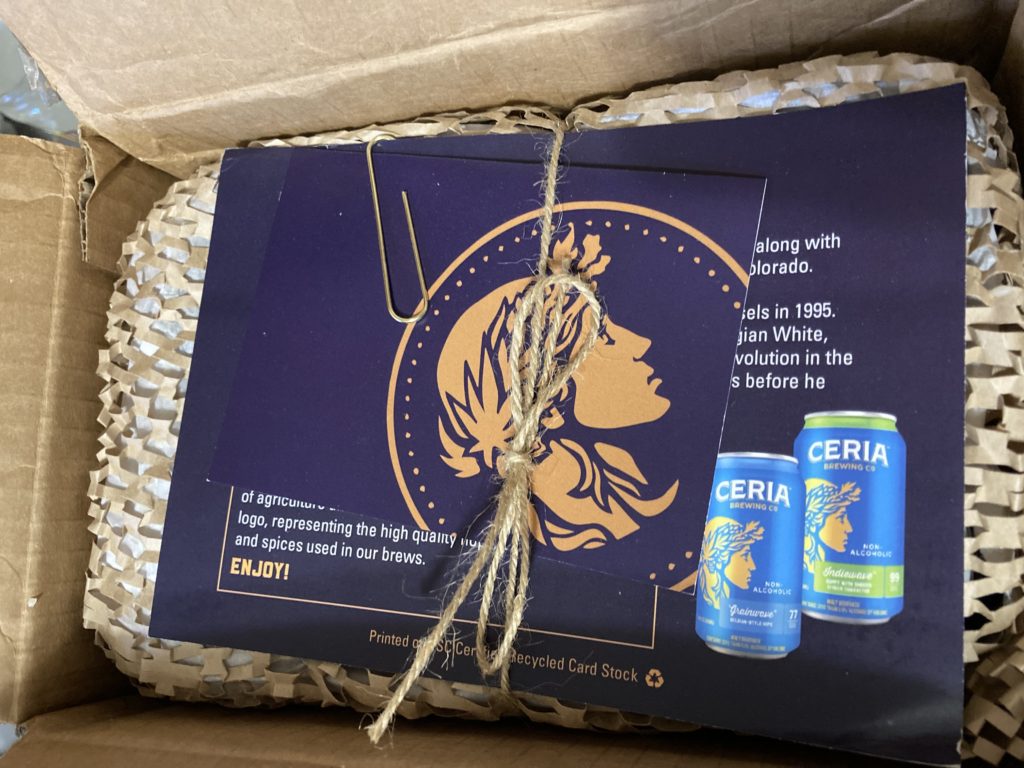 also, i really appreciated the recyclable packaging and handwritten note that were included! very nice touch!