yes i broke down and tried a new brewery. gotta have something to write about! no, seriously, i'd been wanting to try gruvi for a while and kept hoping my total wine would start carrying it, but they haven't. so yeah, back to mail order.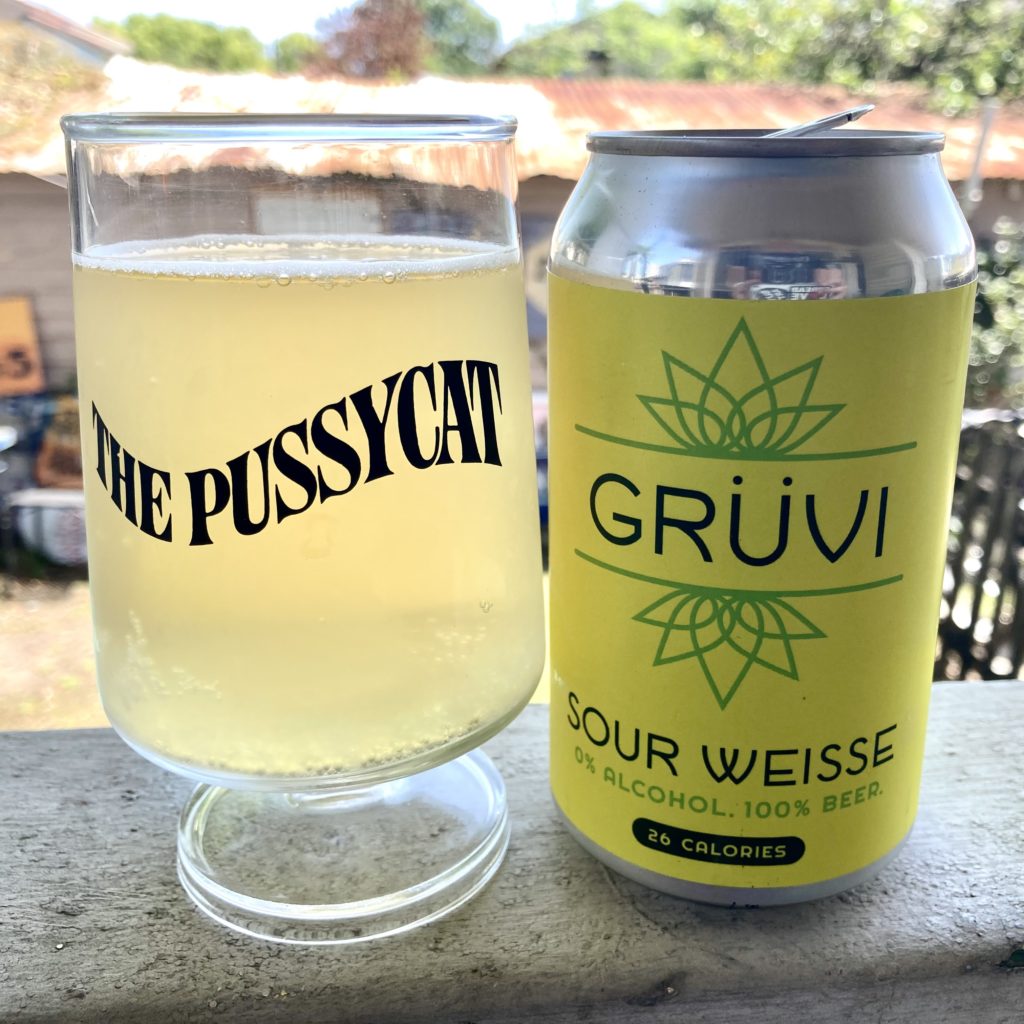 i'm not sure though what possessed me to order this particular beer. what i was really making the order for was their stout (review forthcoming) and i needed something else to make the order worth it, given shipping costs. though their golden lager gets a lot of accolades, i was worried it was just be boring to me; i don't really drink just basic lager much. and i already have enough hoppy stuff in the fridge so i didn't want the IPA or pale ale. and sadly the delicious-sounding peach pie ale was out of stock. the description of the sour weisse said "our take on the classic berliner weisse is tart, citrusy wheat beer," which made it sound interesting. so sour weisse it was!
now that i've cracked one open and am sipping it, i don't know if that is how i would describe this one. it is extremely light and crisp, which makes it not feel very much like a beer at all. though the ingredients listed are barley, oats, wheat, hops and yeast, i'm just really not tasting the grain at all. it is citrusy-tart, for sure, more lemony than anything else. it feels almost more seltzer-like than beer-like, in terms of mouthfeel and body. it is tasty, i will give them that. it will certainly be a lovely thing to drink on a spring or summer sunny day, perhaps with a squeeze of lime in it. but a "citrusy wheat beer" it is not, at least not to me.
i would put this 26 calorie, 5 carb "beer" in the same category as some of those from partake brewing – though honestly, the partake brews i've tried have more flavor. but for those who are really into cutting the calories and/or the carbs, this would be a great selection. i had mine with a greek salad and it was a great pairing. but i think i will have to be in a particular mood to want to drink this.
i did want to point out the excellent packaging with recyclable materials, which i greatly appreciate. i've had some boxes of beer show up with just a few layers of bubble wrap, which is both highly ineffective as a means of protecting the beer and also not readily recyclable. these paper options are much better and each 4pack was tightly wrapped and cushioned. so thanks for that, gruvi!