i've wanted to try this one for a long time as it gets consistently good reviews from folks who like wheat beers, so thanks NAbrews for offering singles so i could check it out.
mikkeller was founded in cophenhagen and now has breweries and brewpubs in multiple locations around the world. in 2016 they opened a brewery in san diego, and they've since also opened a spot in new york city. they make several different NA beers – i got this one and the raspberry limbo series which i think is like a sour/gose style but i'll let you know when i get to it. today felt like more of an "american style wheat ale" kind of day.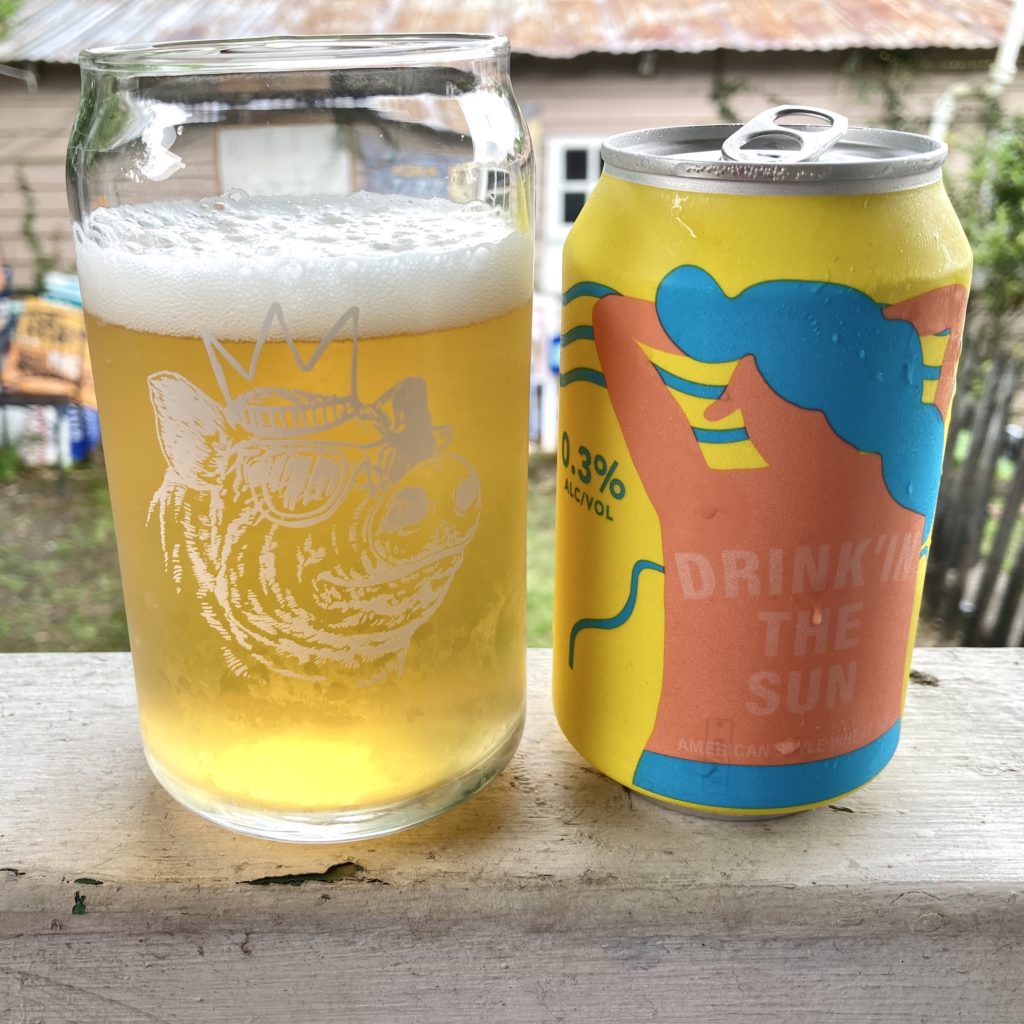 it pours a nice light golden yellow with a small fluffy head that dissipated quickly outside on the back porch. (it's really humid today, maybe that affects it?) nice compact carbonation though.
my nose is pretty stuffed up (thanks allergies) so can't really say much about the aroma except that it's a little funkier smelling than most NA wheats i've had, and i don't smell much in the way of hops. though most wheat beers aren't very hoppy so i guess that tracks for the style. i'm just not getting much aroma at all. maybe a little citrus. a little bready.
the taste is pretty unique. it's got a slightly sweet malty background that most of the other NA wheats i've tried don't have, with a little funky bitterness on the backend as it goes down. it has almost a sort of wortiness but not really; and it's not off-putting. (mikkeller developed their own yeast named "mikkellensis" in order to make their NA beers, one that basically does not produce alcohol in the fermentation process and is responsible for their signature flavor not attributed to hops or malts.) mouthfeel is pretty great, a little light but creamy smooth. definitely feels like a beer in my mouth.
i like it but i think honestly i'd have to drink a few more to know if it's the kind of beer i'd want to have on hand all the time. i do think it's interesting and if it was offered at a bar or restaurant i'd be inclined to order it. seems like it would pair well with food. it's a little more mellow than some of the brighter citrusy wheats that i've had (like rightside), but i think mikkeller did a good job naming this one cuz i could see it being a great lazy summer beer.
apparently over the years different varieties of this beer have been brewed, with different low ABVs. the current incarnation says .3% – more specific than most NA beers in the US which usually just generically say "less than .5%."
i also love the can artwork and the overall branding of their beer. here's a great article about their art director, philly-based designer keith shore. the 80s retro color palette and goofy illustration on drink'in the sun would make me pick it up off a shelf even if i didn't know anything about it. a lot of their other beers have similarly great artwork.
i look forward to trying more of their beers and i will definitely need to have a few more of this one.