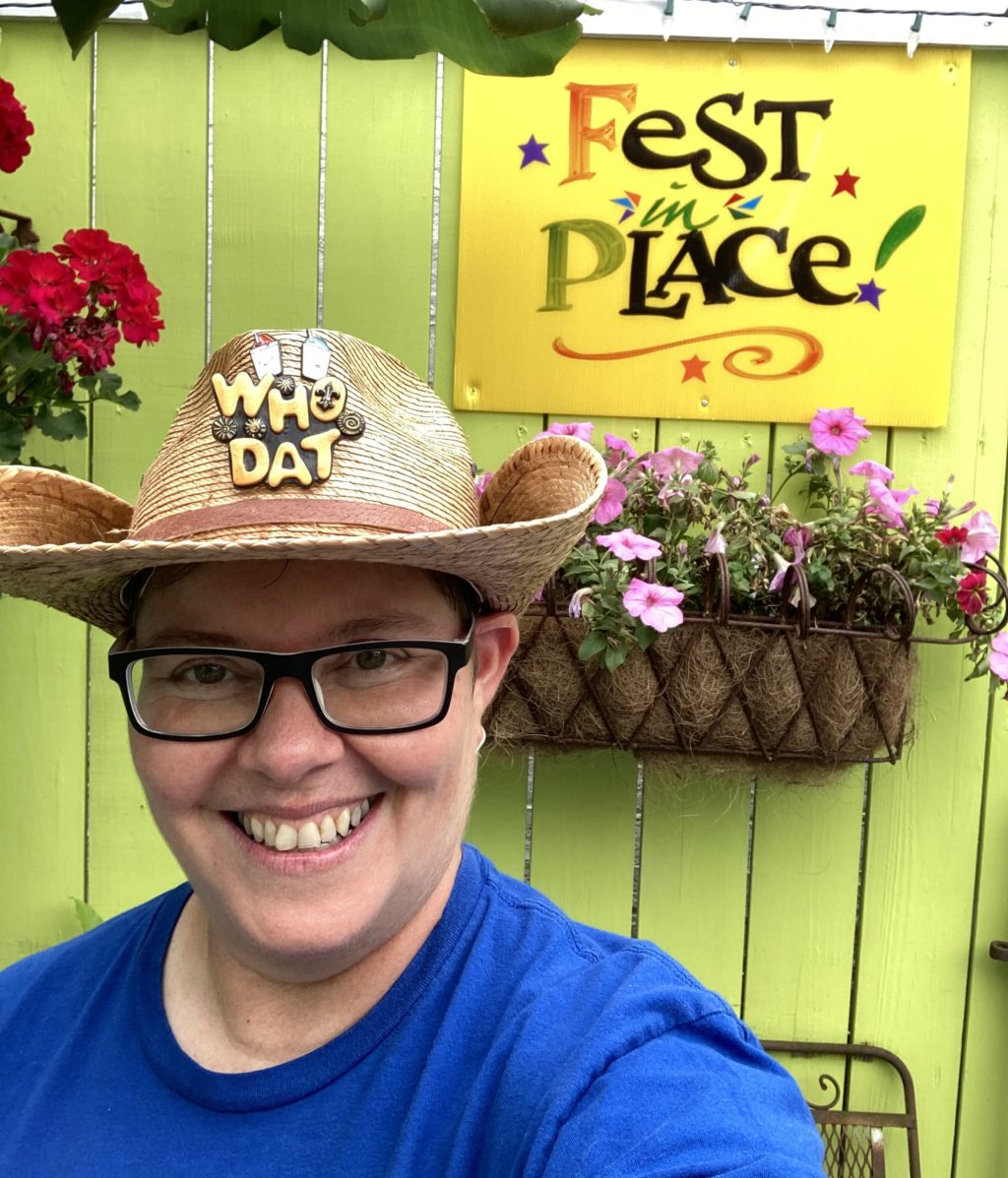 this is a health-related post, so if you've come here looking for NA beer reviews, use the category links for that blog stream. i don't have any big health updates, just a few observations and thoughts after a long day of jazz festing in place with friends yesterday.
i really struggled with my voice and my energy yesterday. we were outdoors, no masks cuz we were all fully vaccinated, with WWOZ blaring from a bluetooth speaker. there were ten or so of us, spread out, so when i spoke, there was enough going on that i had to try to project my voice across distance and over others who were having side conversations as well as the music. it was fine at first – it's definitely better without the mask and my voice has gotten stronger over time – but the longer the day went on, the harder it became to do and the more strained my throat felt. and the softer and higher pitched my voice got. and the more exhausted i was.

trying to speak loud enough to be heard exerts a lot of energy. it also messes with my breathing, which also expends energy. (i never realized before surgery and my ensuing complications that your vocal folds have a lot to do with regulating your breath going in and out of your wind pipe. so talking a lot, when one side of your vocal cords is paralyzed, makes breathing harder while doing so.) and then there was the angelique kidjo dancing in the kitchen interlude which put almost 3000 steps onto my fitbit and had me breaking out in a sweat at one point. that was probably the last straw.
all of this lead to me rather abruptly running out of energy like a suddenly depleted battery in a child's toy. i could feel myself waning and then i just hit a wall and i could no longer function. it wasn't because i hadn't slept the night before – i had. i'm not sick. and i had not over-eaten or under-eaten. and i certainly could not attribute it to alcohol as i was drinking NA beer all day (hat tip to rightside brewing's citrus wheat!) along with some rosemint tea w/ginger ale. this is just how it is now. folks with chronic illness often use the "spoons" analogy and i'm reluctant to appropriate that because i don't have a chronic illness but i do feel like i now understand that more than i ever did before. post-surgery, i don't have as much energy as i use to just take for granted having; i now seem to really have a limit, and once that limit is used up, i'm done. period. no pushing through to carry on. i just need to lie down. done. like a toddler.
and it doesn't take strenuous physical activity to get me there. apparently all it takes is six hours of socializing while seated, constant talking, and a few minutes of dancing in the kitchen.
don't get me wrong – i'm so happy to be alive and to have recovered so well from a successful major surgery where they drilled into my skull, peeled back part of it, and removed an intruder from my brain stem. but i am not the person i was before and i'm still just getting used to the person i am now, the limitations this still-recuperating body has now.
i don't share all this to be whining or complaining. i do so because i feel like in general i've put a happy face on all of my recovery, and when i see folks now who have only seen me sporadically or on social media, i think they think i'm totally back to "normal" and don't realize i am still enduring struggles, however minor in the grand scheme of things. but they are still there, and account for my sometimes abrupt change of mood.
in many ways its convenient that that my surgery and recuperation has happened during the pandemic, when life has slowed down and there's not as much activity going on. i'm not sure that i would actually make it through a normal day at jazzfest at the fairgrounds right now. here's hoping i build my endurance back up before october when jazzfest hopefully returns.