so after a brief break wherein i tried hard to drink up some of the stock of NA beer that was overtaking my fridge, i got a shipment from NAbrews yesterday with six singles of new-to-me beers.

NAbrews is a reseller that has alternating stock of lots of the popular and limited release craft NA beers in the US. i am learning that it's just not worth buying a whole six pack of something you've never tasted before, especially if you are paying for shipping, so sites like NAbrews let you buy singles for a premium price so you can try stuff out. (you can also buy full four or six packs too.) it's hard to pay so much for a mixed six pack of beer, but i rationalized that if i was buying these one at a time at a bar i would have paid more. and this is really the only way for me here in new orleans to get to taste some of them, since total wine hasn't ordered (or maybe can't order) any of these, which were all on my list i sent to their beer buyer.
(NAbrews also has an affiliate program which they offer to anyone who makes a purchase, so, ya know, if you decide to check them out you can use my code MARGARET893 for 10% off and i get a little kickback.)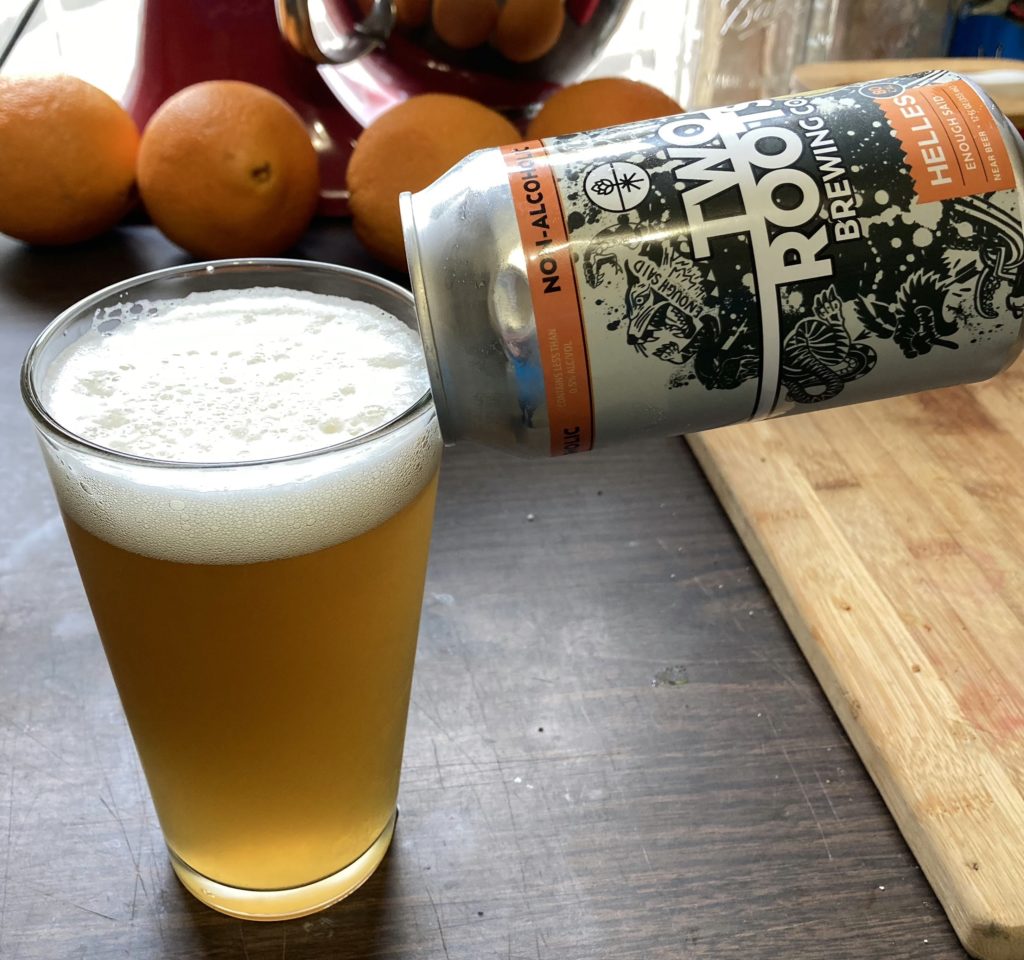 it was sweaty and hot out today walking dogs, so when i got home i wanted to try one of my new brews. i chose two roots brewing's enough said helles, which was a fine choice to accompany my veggie burger lunch. i had to actually look up what a helles lager was to make sure i knew what it was supposed to taste like: a helles is a german-styled malty, bready beer that has a little sweetness balanced with a spicy hops that's only mildly bitter. i'm sure i've drunk many in my time but it's not a style i would necessarily think to order on the regular.
as you can see by the pic, this two roots NA version pours really nicely, a beautiful golden yellow color with a great head that lingered and laced nicely along the edge of the glass as i drank it. it has an herbal and bready aroma, and great light body – it really feels like a regular beer in my mouth. and i have to say, it is text book helles. everything i said above about what a helles should be, this is. it's delicious, refreshing, smooth, light but complex in flavor. i don't know how they did this but it's no wonder they won a gold medal at the 2019 great american beer festival for this brew. and as they tout on their site, it has only 80 calories and is rich in vitamin B12 and electrolytes.
so yeah. i would drink more of this if total wine ever started carrying it, making it easier (and cheaper) to procure. aside from this helles, they have two different IPAs and just this week released their version of an NA michelada. (not something i'm interested in but definitely adventurous in the NA beer world.) i'm glad i finally got to try this and now know what the hype about this san diego-based brewery is all about.