i never checked back here after i wrote that last post about sticker's passing, so thank you to those of you who replied in the comments. i just now saw them. stencil is still howling in the mornings, staring out the window/door, but he is otherwise doing fine. we are both still grieving in our own ways and together. it will just take some time. i know folks keep suggesting i get another cat or a kitten or do some fostering but i don't think either stencil or i are quite ready for that yet. maybe down the line…
i've had to start picking up some overnight pet sits, which i really didn't want to do anymore – both for myself and for stencil – but my finances require it. unfortunately my pet biz is just not in a place where i can survive without doing some and the demand continues to be high because there are so few petsitters who do overnights, but i'm trying to limit it to one or two a month so i have time to recuperate in between and stencil isn't left alone for too long. so far he seems to be doing ok with it. (i'm already booked up w/my limit of overnights through june! so grateful for my clients!) i would much prefer having more cat sits or dog sits that didn't require me to spend the night but in this business you have to kinda just take what comes and be flexible. i will continue to work towards a time when i don't have to do overnights.
so, yes, back to patience. i tweeted the other day that the month of march is trying to teach me patience and i'm failing miserably. it's been a rough month of feeling in limbo. i've vague-posted a few times on facebook and i've told some folks in person what's going on but haven't wanted to speak about it publicly on social media cuz i guess it all just doesn't feel real to me yet and i've been afraid to jinx it. but i'm about to pay my rent and my landlords swear the work will get done this week before the 1st so i guess i can go ahead and talk about it. maybe talking about it will help move it along. (please send some energy in my direction to make it so!)
i've lived in the same 500 square foot one bedroom rear apartment for 11 years now. i really love the house, the location, the neighborhood, and don't want to move but have been feeling stagnant in my life and like i need a big change and i frankly need more space. i've needed more space almost as long as i've lived here but have somehow managed to make it work all this time. hurricane ida and the aftermath made me realize how isolated i feel back here, how limiting not having a front door/street access is, how much i missed having a crosswind! as often happens with traumatic experiences, it also made me reevaluate my life and realize how unhappy i'd been recently with my life in general. how i'd always dreamed of more and, well, it's later than you think.. so better get to it! so i got into therapy (online), started addressing some things, visualized what i wanted my new life to look like, wrote it all down, made a vision board of sorts, and started to make movements in that direction and act as if it was going to happen. and wouldn't you know? things started happening.
backing up for a minute…. several years back, the former tenant of my place (who became a friend and was one of my cat clients before she moved away to atlanta) had told me she once had a conversation with my landlady about knocking the door down that separates my apartment from the front two rooms of this shotgun structure. it never happened but she said my landlady sounded open to the idea in order to keep her as a tenant. she ended up moving into a bigger place and i ended up in the tiny apartment, but that's been in the back of my head for years now. the timing never worked out that the apartment next door was empty long enough for me to have that conversation with my landlady, though. and i never felt like i was in a financial place where i could take on any additional rent, which would of course be necessary to get more space. (one of the reasons i've stayed here so long is that the rent has been very cheap.)
well i'm still not really in that financial place now but given these changes i was looking to make, i decided when the last tenants moved out mid february to jump and hope that the net would appear, cuz it was time. i reached out to my landlady, who loves me and wants to keep me as a tenant cuz i've never been late on the rent and have helped her take care of this house over the years, and broached the subject. i don't want to get in to all the details here, but, long story short, over many weeks time and some back and forth, we were able to negotiate something that worked for both of us, for me to assume the rest of my side of the house, starting april 1st! yay!
and so began the month of march, my month of waiting for something to happen. waiting for the locks to be changed so that what will soon be my front door will have a new lock and key. waiting for the doorway that had been cut between the two sides of the house to get blocked up, to return it to two shotgun apartments. waiting for the door at the end of my hallway to be unsealed from the other side (not pictured, but in the yellow room) so i could get through to the other two rooms… but only after the other two things happen, so i'm not exposed and can secure my apartment. a handyman was hired to do all the interior painting and fixes on the other side, and he will be doing the work necessary to open my side up, as well. i thought he might do the work to get my apartment situated first… but sadly, that has not been the case.
and so i continue to wait. the handyman does not keep regular hours and comes and goes randomly. nice guy, and seems to be doing good work, but clearly he has multiple jobs going on at the same time and this one is not his priority. he doesn't have a crew, works alone, so it's slow-going. he has replaced the locks on the other side and fixed those doors so they are secure. but the lock on my side gave him some trouble so it has not been resolved and i no longer have access to those rooms until it is. nothing has happened to seal up the doorway between the sides or unsealing the door in my hallway.
and meanwhile, all month long there has been a different work crew painting the exterior of the house, the result of which is the pic above a few paragraphs. it looks great and i look forward to being able to enjoy that front porch! (my back porch looks nice too, see pic below.) it's gonna be amazing to open the front door and back door and feel a breeze throughout the house! (none of the windows open in the house cuz they've all been painted shut.)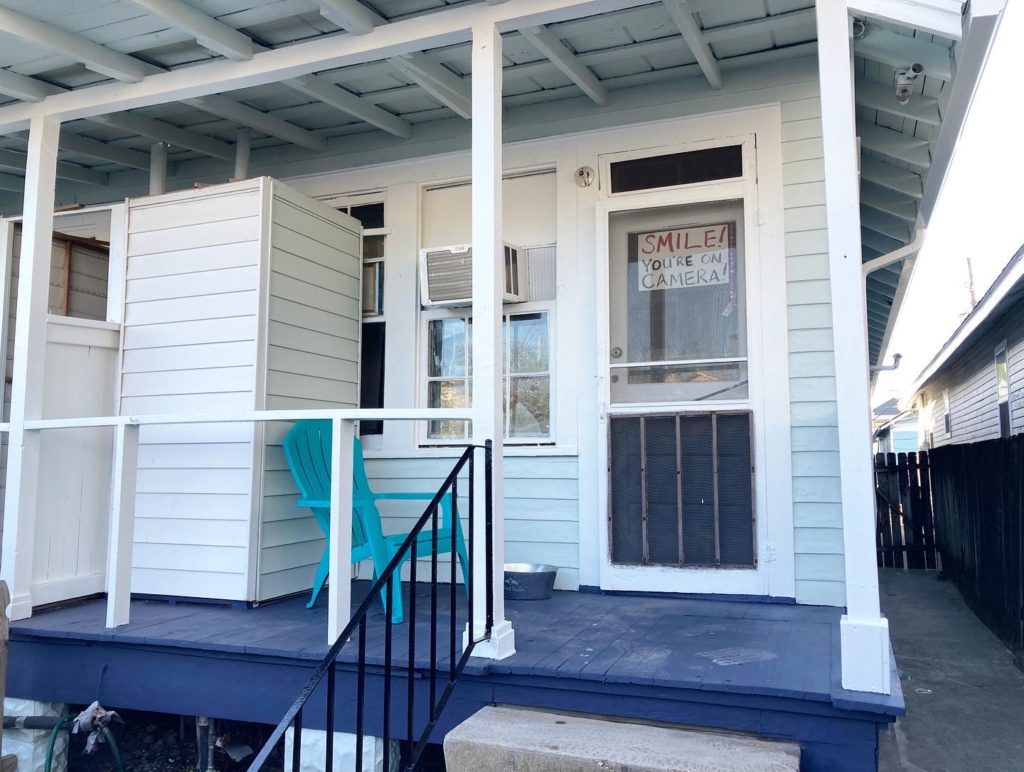 so yeah. it's been quite a month. and april 1st is friday. is it possible to get it all squared away by then? sure. it's really not that much work (for my side) and could be done in a day but it will take the handyman prioritizing it. i talked to my landlords today and they are just basically at the mercy of the handyman who sets his own schedule. so we all wait.
patience.
meanwhile, i already moved everything away from the door at the end of the hallway in preparation for it being opened up. (i'd used it as a storage area so there was a dresser with a ton of stuff piled up on top of it that is now just crammed into my bedroom.) so it feels like my tiny space is even more chaotic than usual. i've measured the new rooms (in the brief window of time that i had access to them) and drawn out a blueprint of the space to start visualizing how i might rearrange everything. but i can't start assembling any new furniture or moving anything obviously until i have a key and the door is opened up. it's just so frustrating.
however the universe has at least answered my desperate call for work and money, to be able to afford the new rent. i sold some art and folks were really generous in their payments. i did a 5 day overnight sit. i've had some other pet sits in addition to picking up one new m-w-f dog walking client. (after losing a m-f daily client, which didn't exactly make up all the money i'd lost but is something.) and i'm fully booked with pet sits for the month of april, into may, and have a long overnight sit in june on the books. so it feels like i'll be able to get through the next few months ok.
hopefully by then i'll be situated in my new extra space and have one room dedicated to being my art studio, which will help me in my efforts to beef up my side income from my art. i hope to figure out a way to get the t-shirt printer back inside the house so i can get back to printing too.
it might take many months for all this to come together but this is the vision i've been (wo)manifesting so i can move in to the next phase of my life where my art is more a part of my every day and i don't have to compartmentalize it quite so much in my physical (and mental) space. and hopefully all this change will also inspire me to let go of some of the excess clutter that i've built up over the last 11 years in the house, as i streamline and feng shui my living space.
so that's my news. that's what's been taking up all my mental energy as of late. i haven't really been going out and doing anything social as i'm trying to be financially frugal, but i look forward to a time very soon when i can actually socialize in my own home, have people over!! it has taken a lot of work to get me here and will continue to take a lot of work to follow through and make it all happen, as well as continuing to afford it. but this is my work for 2022. i knew 2022 was going to be a year of change for me. and so it is. new year, new life!