if you follow me on social media, you are probably tired of hearing me emote about my cat sticker. over the past year, i chronicalled his battle with renal failure and the more recent discovery of liver cancer as a way of coping with my feelings about it, which helped me finally come to the decision to euthanize him last wednesday. i had a hard time letting go but it was the right decision; it was time. i thank all my friends and followers on facebook and instagram for allowing me the grace to overindulge my sadness and grief in their feeds.
writing has always been one of the ways i've processed my life and its many twists and turns. it's one of the reasons i keep this blog, even though i write in it so sparingly and usually only about my recovery from brain surgery or non-alcoholic beer. i'm going to try to write more often about different topics, just to get shit out of my head and to keep my brain from turning to absolute mush in my middle age.
but to stay on topic here, yesterday i picked up sticker's ashes at my vet's office, having been delivered there by heaven's pets.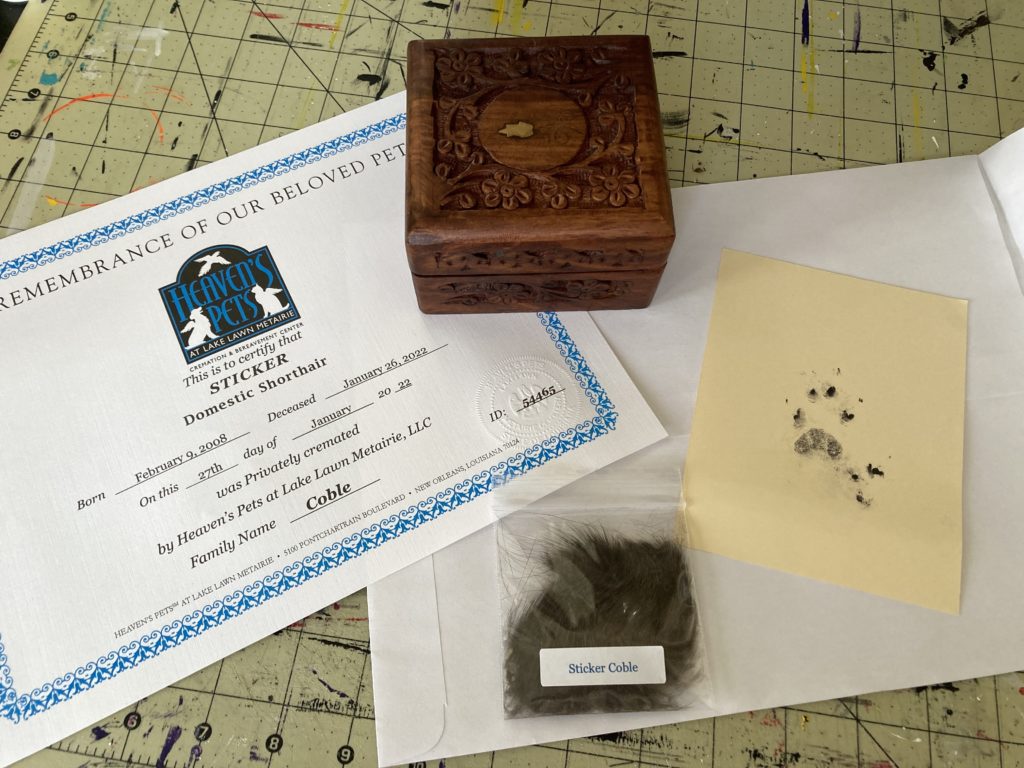 i wasn't prepared for how emotional i would feel seeing a tiny baggy with some of his shaved-off fur and the card with his big ole polydactyl front paw print. (i specifically asked them for a front paw print since he had those ridiculous extra toes.) i don't really know what i will do with all these remains, though the idea of eventually incorporating them into a painting about him seems inevitable. i'm not ready for that quite yet though.
stencil and i are adjusting. i think stencil is lonely but he's too old to subject him to a kitten in the household and i really don't think he'd accept an older cat. (plus i really just don't want a 2nd cat, at least not right now.) but every morning now after i feed him breakfast, he sits on his cat tree perch in the living room, staring out the window at nothing in particular, and just howls. loudly. incessantly. i kinda feel bad for the neighbors, because i'm sure they hear him, but even when i go in there and talk to him, play with him, give him treats, as soon as i leave the room, he's back at it, meowing again. at some point he gets tired and curls up for a nap but it's a pretty annoying 7am routine. (he doesn't do this at other times of the day.) i don't know if it has anything to do with missing sticker but he just started doing it, so maybe.
as for me, since wednesday i've done a lot of cleaning in the house. wednesday night i channeled my grief into vacuuming and rearranging the furniture in the living room a bit. i just needed a change from the position i'd just spent much of the last few weeks in nursing sticker on his window ledge behind the futon. so i moved the futon to a different wall, and the folding table that is my art table to a different spot. i'm not sure i like it but it's nice in the short term for things to be different. today i bought another set of plastic drawers on wheels that are wide enough to accomodate a lot of my paper supplies and prints – it's a $20 cheapie flat file hack. so the living room/studio space feels better organized now. we'll see how it feels when i get back to actually painting again.
i also bought a new larger litterbox. well it's not really meant to be a litterbox – it's a long plastic bin that's only six inches tall, probably meant for under-bed storage, but it's basically as large as both of the smaller boxes i had for sticker and stencil before. they'd used the same litterboxes their whole lives; i would periodically scrub them out in the backyard so they lasted a long time. but stencil being an only cat now, and a senior cat, i figured i'd get him one large box that fit the same space. i hope he likes it ok. i'm thinking it will be easier to upkeep.
it's going to take a while to get used to sticker not being here. i still sometimes expect him to be underfoot when i walk to the bathroom. but i know he's free now from the pain of his little failing body, and i think he had a pretty good life as a pampered housecat these past 13 years. it was certainly a better life than he would have had as an outdoor feral cat, which is what he was when he was found as a baby kitten along with stencil and his other littermates on the campus of west jeff high school post hurricane gustav.
this was the irresistible kitten picture attached to their craigslist "adopt me" ad: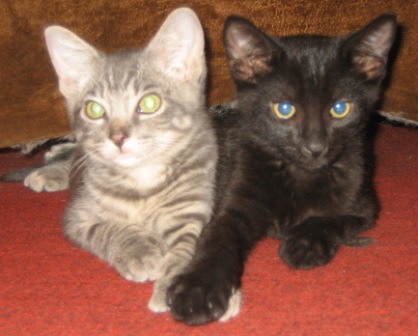 those crossed paws! still kills me. they always loved each other so much.
sigh.
life goes on, i guess. it'll just be a little more lonely in our tiny house. but at least stencil and i have each other. and now i will have to spoil him even more. i'm sure he won't mind!